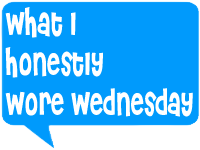 I found this wonderfully awesome idea over at
Pamplemousse
. Hey, I do a weekly post on actually
trying to look good
each week so why not NOT try as well? It is refreshingly honest...and a bit funny (considering the things I find myself in some days).
I guess today isn't so bad. I guess it'll ease me into showing you my more frumpy side. Haha.
Yes, work out clothes is my outfit of choice for today.
I used the bathroom to get a pic of the whole ensemble. Classyyyy.
Note the reflector on the side of my gym pants.
Oh, and you know that
hair show
I was in a while back where they made my hair super-mama-fly? Well, the roots are showing their ugly selves. I am starting to wonder how the heck I am going to maintain my fly self.