So...recently my daily mom uniform has consisted of a white tee and jeans. The end. Boring.
I was tired of it this past weekend and decided it was time to change it up a bit. I grabbed my trusty geo-print sweater, belted it and added my new favorite accessory- a charming little bow necklace.
My no-time-style-rut was defeated.
For now! ;)
Yehhh, our dog manages to make it into a picture every time I bring out the cam.
By the by, Dogeared necklaces are a fave of Rashida Jones.
Watch the awesome and wonderful Parks & Rec, by chance?
She just so happens to be wearing the Dogeared Infinity necklace!
So ladies, it's really the simple little changes & additions that can take an outfit from boring to bam :).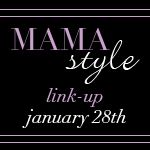 I hope your weekend was a lovely one!